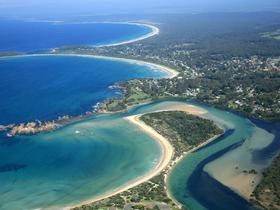 Agriculture, predominantly Dairy Cattle Farming and Food Product Manufacturing still play critical roles in the regional economy.

Aquaculture is emerging as a potential sector of competitive advantage for the Region, which offers a range of distinctive and differentiated products such as the Sydney Rock and Angasi Oysters.

The Far South Coast is located in a highly desirable destination that includes natural attractions such as the coastline and marine environment, national parks, temperate climate and overall lifestyle amenity that can attract both tourists and potential residents to the Region.

The Far South Coast is home to a number of cultural events and festivals that attract visitors to the Region, as well as improve the attractiveness of the Region to potential residents.

These include, the Four Winds Festival, Narooma Oyster Festival, Eden Whale Festival, Cobargo Folk Festival and the River of Art Festival.